KC-451 Sword Point Yanagiba 300mm by KANETSUNE SEKI
KC-451 Sword Point Yanagiba 300mm by KANETSUNE SEKI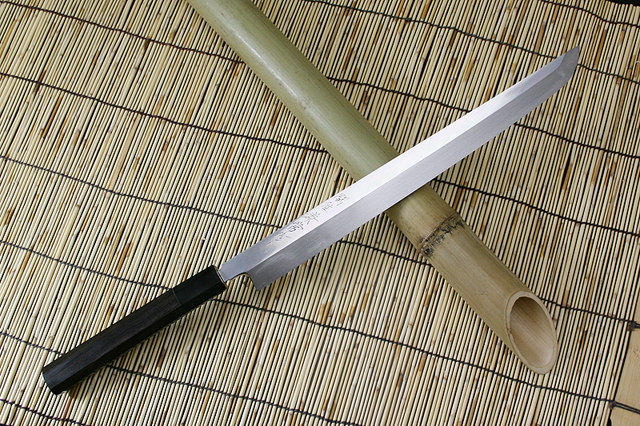 Limited number. 3pcs only !! 
First come, first served !!
Kanetsune Special made Yanagiba

This is one of special made Kanetsune Yanagiba Hocho. Unlike other Yanagiba
hocho, this one has a sword-shape tip that might make knife enthusiast think
of traditional Japanese Samurai swords. The bolster is made from
dark-colored buffalo horn shaped into octagon shape so as its ebony-made
handle.This Yanagiba is not for everybody, only for some people who
appreciates the beauty of Japanese cutleries. You can get what you see in
the picture.

◆This is a Honyaki knife.
The one forged from single high carbon steel. The blade is much harder than
other Kasumi knife (laminated blade, or the one made out of two steel
materials.) or regular Western style kitchen knives.
Honyaki hocho is very difficult to make and hard to maintain and use. Due to
its hardness, it is not recommend for everybody, only the people who know
how to handles genuine traditional Japanese Hocho.
| | |
| --- | --- |
| BRAND | Kanetsune Seki |
| MODEL # | KC-451 |
| SERIES | Sword point yanagiba |
| OVERALL LENGTH | 300mm ( 11.82" ) |
| BLADE STEEL | White steel (Shirogami) Honyaki |
| BLADE TYPE | Sword point yanagiba 300mm |
| HANDLE MATERIAL | Ebony wood w/ water buffalo horn bolster |
| ORIGIN | Japan |
| LIST PRICE (US$) | 1729.00 |
| SALE PRICE (US$) | 500.00 |
There is a possibility that your order is out of stock because Japan-Blades'items are also sold at our physical retail store in Japan.
In case that your order is out of stock, we will inform you of estimated date to restock.