KD30-3717 Hattori Cowry X Damascus Tanto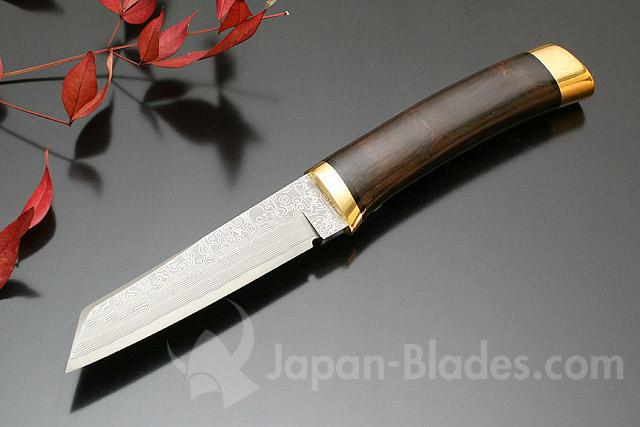 Sold out now (no plan to be available at this point) 
We are having a continuous delivery problem on the Hattori knives, because of the far demands than they can produce. So it is taking much times to ready to deliver. And it is difficult to tell exactly when it will become available.
 If you could accept patiently waiting for a long time, please register your name and email address to http://japan-blades.com/contact before you will add to cart. We will notify you by email ASAP when we will ready to deliver.
Thank you for your understanding.  Hattori KD-30 series This fix-blade is one of Hattori's best selling knives. 
Hattori's KD series knives have the blades that are produced by hand-hammering in their factory in Seki-City, Japan.
The blade is made with Cowry-X along with nickel stainless Damascus steel (420J1 stainless steel w/Nickel)
The cowry X is a powdered steel that was originally developed by Daido Steel Co. for high performance cutting applications.
It contains 3% carbon and can be hardened to HRC 63-68 without the brittleness.
The handle is made of beautiful Ebony wood fitted with brass hilt.See all Hattori knives here. 
| | |
| --- | --- |
| Model# | KD30-3717 |
| Name | Cowry X Damascus Tanto |
| Blade Steel | Cowry-X |
| Handle Material | Ebony Wood |
| Blade Type | Modified Tanto point |
| Overall Length(mm) | 202mm (7.95inch) |
| Blade Length(mm) | 100mm (3.94inch) |
| Blade Thickness | 5mm |
| Sheath Material | Leather |
| Our Price(US$) | 580.00- |