KD30-3718 Hattori Cowry X Damascus Utility Hunter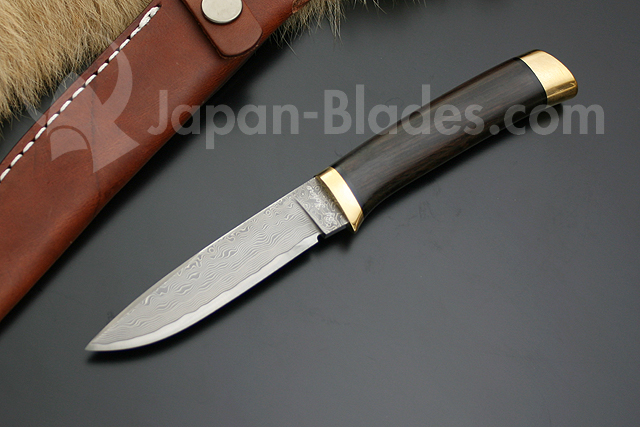 Out of Stock !!
Hattori KD-30 seriesThis fix-blade is one of Hattori's best selling knives.
Hattori's KD series knives have the blades that are produced by hand-hammering in their factory in Seki-City, Japan.
The blade is made with Cowry-X along with nickel stainless Damascus steel (420J1 stainless steel w/Nickel)
The cowry X is a powdered steel that was originally developed by Daido Steel Co. for high performance cutting applications.
It contains 3% carbon and can be hardened to HRC 63-68 without the brittleness.
The handle is made of beautiful Ebony wood fitted with brass hilt.  
| | |
| --- | --- |
| Model# | KD30-3718 |
| Name | Hattori Cowry X Damascus Utility Hunter |
| Blade Steel | nickel & 420J1 stainless Damascus/Cowry-X core |
| Handle Material | African Ebonywood |
| Overall Length(mm) | 203mm (8inch) |
| Blade Length(mm) | 100mm (3-15/16inch) |
| Blade Thickness | 5mm |
| Weight | 100g |
| Sheath Material | Leather |
| Country of Origin | Made in Japan |
| Our Price(US$) | 650.00- |